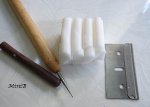 Close-up images of materials needed
Enlarge picture of basic supply requirements
---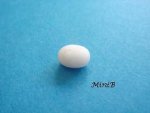 1.
roll a 1/4" piece of translucent white polymer clay into an oval shape.
Enlarge picture showing rolled clay into oval shape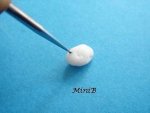 2.
Using your sculpting tool rough-up the clay to make it look irregular on the surface like a real potato. Also poke a few indentations in the surface also.
Enlarge picture showing how to rough up the clay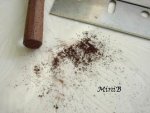 3.
Next take your artist chalk and scrap off some creating powder.
Enlarge picture showing artist chalk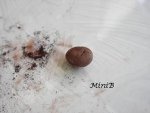 4.
Lightly start rolling the potato in the dusty powder. Use your fingers to roll the clay so that you can press a little harder in some areas and lighter in others. This will enable you to create shading, Chiaroscuro. You can also use other colors of chalk (brown, ochre, etc.), to get the different colors of potato variety.
Cook the polymer clay in your preferred oven at 130 degrees for 20 minutes.
Enlarge picture showing how to roll in chalk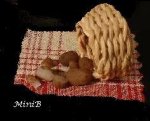 5.
Your potatoes are finished. Display as you desire.
Enlarge picture showing finished potatoes
MEET THE ARTIST

Barbara Dezza is a miniature food artist residing in Italy.
---
Barbara is a valued member of the CDHM
Forums
.
Visit the Galleries today
.
© 2007-2012 Barbara Dezza
BACK